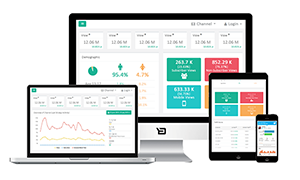 Uncover insights that can help you understand the online video ecosystem and performance globally.
Content Creators Features
1. Increase search traffic & maximize viewership through Keyword Analysis & Tag Suggestion
2. Provide your partners with Competitor Benchmarking via Video Analysis & Influencer Connect
3. Content suggestion through Trend Analysis across genres
4. Understand the audience behavior of your partner channels from the dashboard
5. Sentiment Analysis of audience engagement
6. Actionable insights on your video content
Revenue Reporting Samples
Report revenue data per show, per season and per title in minutes instead of days. A significant efficiency tool for accounting departments and rights management teams. We recognized the need for this in working with our clients that are monetizing their content and have funding bodies and co-production partners that share in the revenue.

Show Titles on left and season # across the top.
The reporting tool can also be useful when dealing with acquired content from producers and co-production partners so you and/or they have details on how their content is being consumed beyond just a financial standpoint. It would also be an asset for your acquisitions team when deliberating the value of acquiring digital rights. There is a direct correlation between stolen content and popularity of titles; determining which content is stolen the most will help to reveal which content is the most popular.